Micro Syringe Type Extruder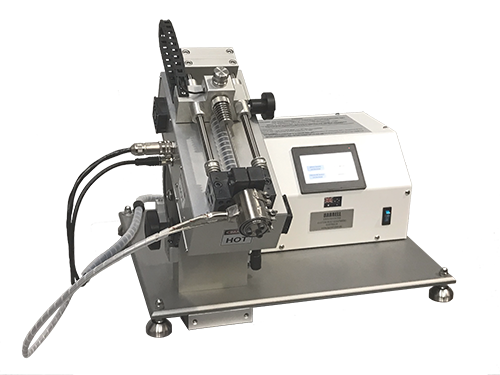 Bench top machine
This equipment has been designed for extruding small quantities of hot polymers, for the purpose of making small strands or fibres. The equipment is capable of high pressures and very fine and precise flow rates. Operated by a touch screen, the machine can be run via speed based extrusion or run via selected constant pressure extrusion.
The Extruder can extrude on any angle from the vertical plane to the horizontal plane.
A handy machine for research and fibre making of materials in the laboratory!
For more information, see specifications chart in Product Details.
Features
Key Features:
Full PID temperature control 25-300C
Constant speed or constant pressure extrusion control
(Plunger Speed Rates, Variable; 0.02 mm/min to 100mm/min)
Touchscreen operating panel
The extruder comes complete with:
Digital touch screen controls
Heat bands & thermo couples
a selection of tooling die pieces
Product details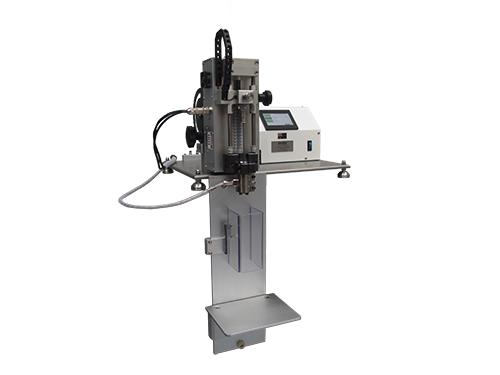 Optional collection table and windshield (Adjustable)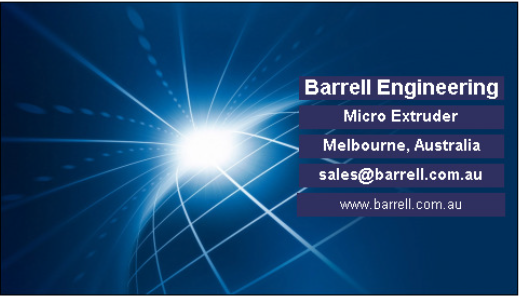 Syringe Type Extruder MK3 / SE75
High-resolution control of the syringe and using a closed loop stepper motor, a resolution of 18um is comfortably achieved. This allows accurate control of syringe tubes as small as 3mm diameter and operating pressures up to 1100 Bar to be developed. With Syringe/Plunger sizes from 3mm to 12mm diameter meaning you can process materials batch volumes from as little as 0.1cc to 10cc.
(Hot Melt, Variable Temperature Max 300c – Run Via volume or Run Via pressure)
Barrell/Plunger Volumes, Pressures and Feed Rates
(Specifications chart)
Available Barrell & Plunger sizes
| Barrel Diameter | Length | Max Barrel Volume/Area | Max Pressure |
| --- | --- | --- | --- |
| 3mm | 60mm Long | 424 cubic mm (0.424 cc) | 1073 bar = 15,587 PSI |
| 4mm | 60mm Long | 754 cubic mm (0.754 cc) | 606 bar = 8,794 PSI |
| 5mm | 60mm Long | 1,178 cubic mm (1.178 cc) | 386 bar = 5,605 PSI |
| 6mm |  60mm Long | 1,696 cubic mm (1.696 cc) | 269 bar = 3,900 PSI |
| 8mm | 80mm Long | 4,021 cubic mm (4.021 cc) | 152 bar = 2,204 PSI |
| 10mm | 100mm Long | 7,853 cubic mm (7.853 cc) | 96 bar = 1,404 PSI |
| 12mm | 100mm Long | 11,309 cubic mm (11.309 cc) | 67 bar = 974 PSI |
1,000 cubic mm = 1 cubic centimeter = 1 cc = 1ml
Volume Output/Feed Rates; (Plunger Speed Rates, Variable; 0.02 mm/min to 100mm/min) **
| | | |
| --- | --- | --- |
| 3 mm | – | 0.141 cubic mm/min to 706.8 cubic mm/min * |
| 4 mm | – | 0.251 cubic mm/min to 1,256 cubic mm/min * |
| 5 mm | – | 0.392 cubic mm/min to 1,963 cubic mm/min * |
| 6 mm | – | 0.560 cubic mm/min to 2,827 cubic mm/min * |
| 8 mm | – | 0.392 cubic mm/min to 5,025 cubic mm/min * |
| 10 mm | – | 1.507 cubic mm/min to 7,853 cubic mm/min |
| 12 mm | – | 2.261 cubic mm/min to 11,309 cubic mm/min |
* Refer to top chart for max total Barrel Area/quantity Note; 1,000 cubic mm = 1 cubic centimeter = 1 cc = 1 ml. ** Feed rates based upon a max feed of 50 mm/min
Dimensions
Dimensions: 500 w x 400 d x 400 h
Weight: 28 kg
240 v / 3 Amp (110 to 120 v option available)