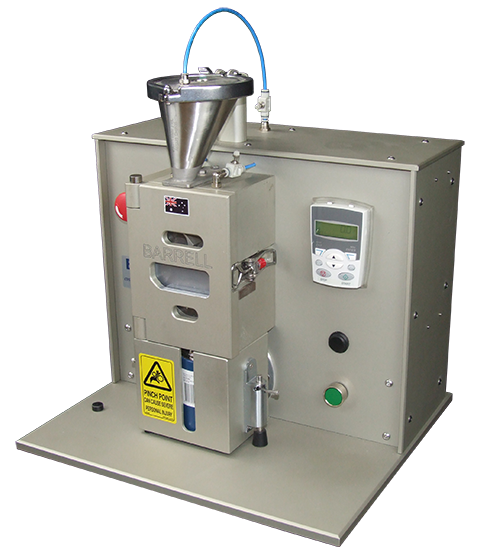 Laboratory bench top machine.
Mini and micro extrusions require very small material size to feed and process correctly.
The Particle Lab Mill, shears and refines larger raw material, without the need for liquid nitrogen cooling which causes the undesired effect of moisture absorption.
Able to process a wide variety of materials without using the traditional freeze grinding methods.
No need for liquid Nitrogen freezing
Meaning – safer and no more wet & soggy material.
Variable speed control
Adjustable sizes
Bench top machine
Product details
Originally designed to prepare material stock suitable in size for the Barrell Mini Twin Screw Extruder.
The machine has a unique chamber design (hard anodised) and a programmable/select air cooling system which helps prevent the materials from accumulating heat.
Ideal for processing small batches. E.g, ideally 50 cc to 2000 cc
Can process higher quantities but not recommended for bulk production.
Safe to operate.
Bench top machine.
Adjustable particle sizes: 0.5mm – 1mm and 1mm – 1.5mm
Output: Based upon processing polypropylene granules to 1mm – 1.5mm in size.
Low speed: 350 cc per 10 minutes
High speed: 700 cc per 10 minutes
Allow a further 2 minutes startup time for pre-processing.
(Quantities and speed rates may vary depending on material type)
Dimensions: 460 w x 552 d x 480 h
Weight: 43 kg
240 v / 2 Amp (110 to 120 v option available)